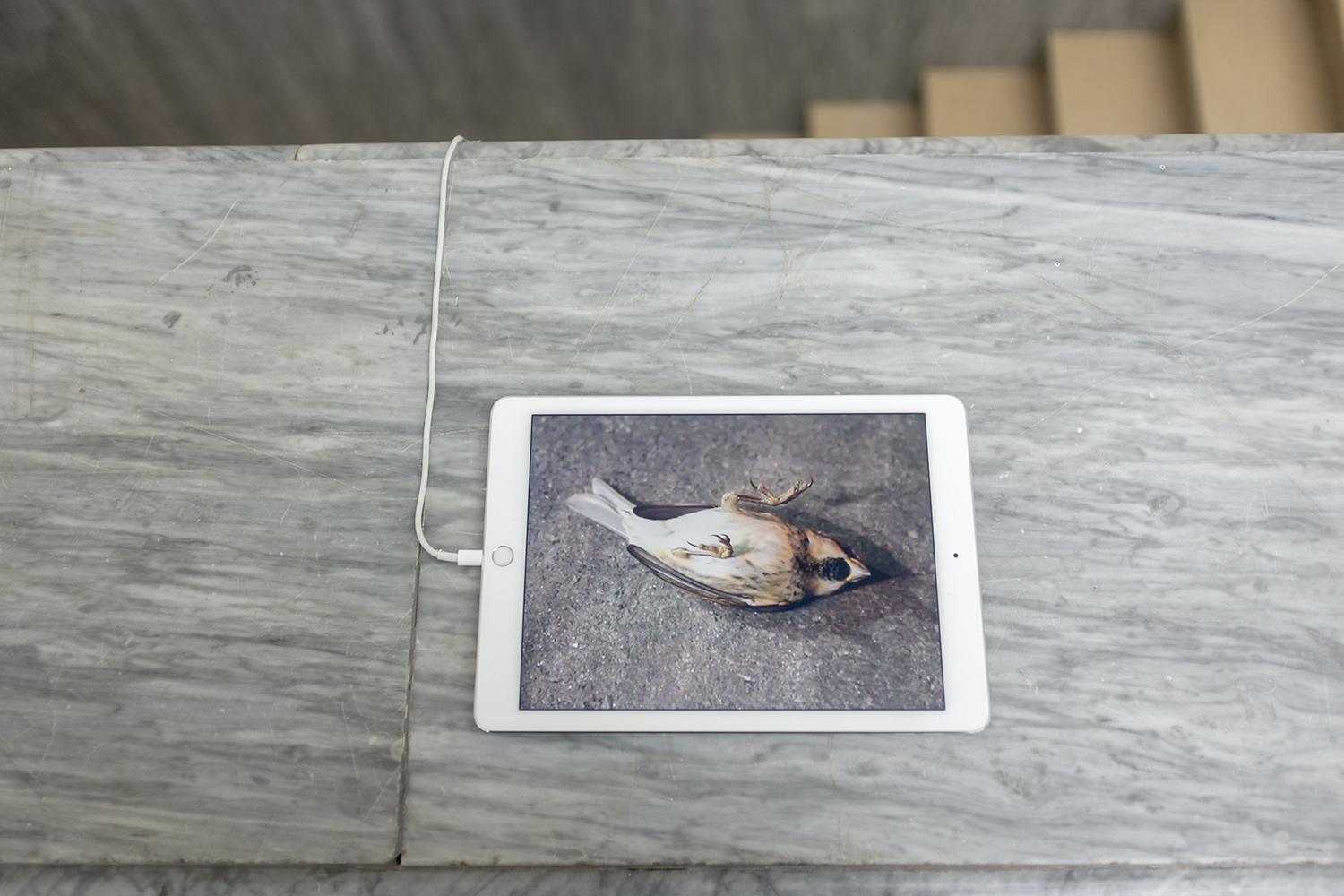 Sparrow
Video, infinite loop, 2020

State and Nature
Staatliche Kunsthalle Baden-Baden, 2021
Curated by Çağla İlk and Misal Adnan Yıldız with Hendrik Bündge and Benedikt Seerieder

The video work "Sparrow" is presented on a smart phone or ipad which is connected to the charger. On the screen we see a small sparrow lying on its back and breathing heavily in an infinite loop. The image and the act of breathing are maintained on the screen surface via the connection to electrical power. At the same time, the sparrow is constantly and endlessly in a state of emergency.
Sparrow, video, infinite loop, Kunsthalle Baden-Baden (documentation)
Flamingo Theater
State and Nature
Staatliche Kunsthalle Baden-Baden, 2021
Curated by Çağla İlk and Misal Adnan Yıldız with Hendrik Bündge and Benedikt Seerieder

…Departing from the complex residue of colonial history on the island of Cyprus, Cypriot artist Stelios Kallinikou's photographic works Flamingo Theatre (2015) feature migratory birds and fighter jets thundering through the sky. They form poetic choreographies and dissolve the supposed opposition between the state and nature. Through this form of coevality, the British armed forces and the flamingos that repeatedly congregate on their migratory routes in Cyprus become agents of a smouldering geopolitics and its consequences for the ecosystem…
Flamingo Theatre, 2019, video, 13 minutes (excerpt)
Flamingo Theatre, 2019,
Video, 13 minutes

The 13-minute video work entitled "Flamingo Theatre" is inspired by various videos that exist on the internet that in one way or another relate to Akrotiri (British Western Sovereign Base Area) . A vast archival digital material consisting of very heterogeneous sources is transformed into an abstract collage of poetic images that aspire to render the nuances and contradictions of Akrotiri penisula.
Sound work by Panagiotis Mina.